"Ce Soir, Chéri !
given for the benefit of the Audrey Jacobs Foundation
A real, singing and joyful fake lecture on love
by Diana Gonnissen, symphonic soprano
and Sophie de Tillesse, mezzo zygomatic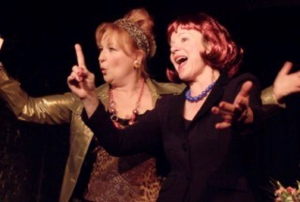 With the complicity of Purcell, Haendel, Offenbach, Vian, Satie,
flowers, butterflies, Love, Love…
The Divas play two astonishing, slightly crazy, apparently not very rigorous lecturers.
Yet everything they say is true.
And then they sing with such happiness that you can't help but laugh and want more!
Show for all audiences.
The evening will take place at the FERME ROSE, avenue De Fré 44 in 1180 UCCLE

Entrance fee: 20€/pers.

Please register by sending an e-mail to Eric Damiens [email protected] and confirm your registration by transfer to the account BE72 3770 9510 6416 of Eric Damiens 1170 BRUSSELS, indicating as communication "your name and x place(s) FAJ evening 23 May 2018". Your reservation will be definitive upon receipt of your payment. Please register quickly as the number of places is limited.

PROGRAMME OF THE EVENING :

FROM 5PM : SALE OF NEPALESE ARTICLES (PASHMINAS, JEWELLERY, SCARVES, BLOUSES, VARIOUS GIFTS…) BAR WITH DRINKS AND SNACKS

AT 8PM SHARP: START OF THE SHOW

DONATIONS: If you wish, you can make a donation, however small, to the Foundation, by paying into the account IBAN BE10 0000 0000 0404 BIC/SWIFT BPOTBEB1 of the FONDATION ROI BAUDOUIN, Rue des colonies 56 (P28), 1000 Brussels, with the following communication TGE – AUDREY JACOBS FOUNDATION – CH.

Donations are tax deductible from 40€.