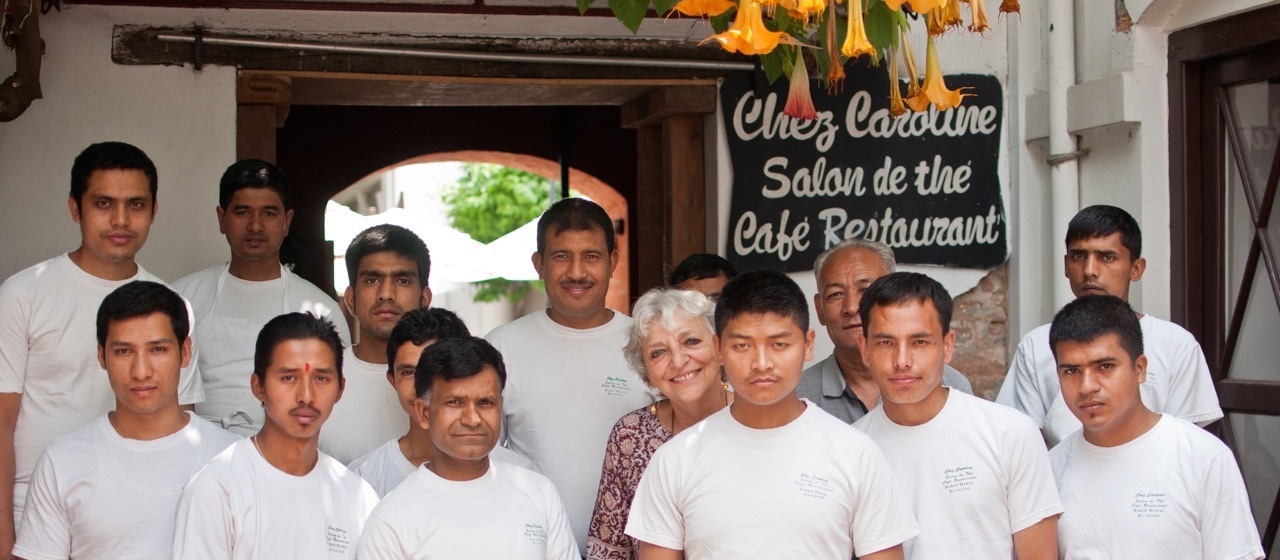 Two massive earthquakes tore through Nepal on April 25th and May 12th, 2015. The estimated cost in human life exceeds 8,000 individuals, over 300,000 houses were destroyed, with countless left wounded and in need.
The French restaurant Chez Caroline opened its doors in Kathmandu in 1997. This oasis of peace and tranquility, launched by a French national, Caroline, employs a team of 22, most of whom are the original crew. The staff works to provide guests with the best hospitality and exquisite cuisine, with particular attention to quality of service. A number of the serving staff speak fluent French.
Chez Caroline's 22 staff members come from the Sindupalchok and Dhading regions, areas that were particularly devastated by the two quakes. Many lost their village homes during the first disaster.
They however showed courage and determination by returning quickly to work at the restaurant in the capital, organizing themselves in rolling shifts to be able to keep working, knowing that they would still need their salary to be able to rebuild and meet the needs of their loved ones.
Before the restaurant would be allowed to open again after the events, it was key to ensure the partially damaged building was secure, to be functional in the best of conditions. In this tragic, often harrowing context, it was difficult for all to keep up with the routine of daily life. This was only possible thanks to the inspiring determination of the restaurant staff, working together to clean and secure the building.
In order to help them in this difficult time, we wish to contribute to the construction of their homes. Many projects are currently under consideration to provide earthquake-resistant, environmentally-conscious construction work adapted to each individual region. We will closely follow those initiatives and will do our best to  guide them in their choices.
This is, however, an emergency situation. We have decided to launch a funding campaign for the 22 families of Chez Caroline's staff, to provide them with the help they need.
Your contribution, whatever the amount, will be a helping hand offered to the people of this beautiful country, allowing them to stand strong in the face of disaster.
In order to donate, kindly note there que several modalities of payment:
A. Online secured payment through Paypal 

B. Bank transfer towards the Foundation's official account which details are available at « Help us »
*** For each of the payment modalities, please add the objective/reference « Chez Caroline » ***
Kindly note that only bank transfer donations are tax deductible. If you wish to receive a taxation certificate, thanks for sending your postal details to the Foundation. 
For further information, please consult our Facebook page or Chez Caroline's website.